Overview
LBM systems' software eliminated the need for dedicated form printing hardware at approximately 400 sites throughout North America.
Results
Elimination of reliance on costly printer DIMM-resident form technology
Ensured document consistency.
Centralized control of form creation and updates
Return on Investment
Under nine months.
Customer
The customer is a leading distributor of electrical construction products and electrical and industrial maintenance, repair and operating (MRO) supplies, and is the nation's largest provider of integrated supply services. They have 9,400 employees; 485 full-service branches; five high-tech distribution centers; access to over 1,000,000 products; more than 65,000 customers worldwide; and is Fortune 500 listed with $7.9 billion in sales (2014).
Customer Need

The customer sites are focused on supplying the highest quality electrical components to customers who require timely and accurate delivery of goods. The computer infrastructure and applications necessary to support this process are often seen as a cost, not a benefit. Using Linux servers and laser printers, the customer has eliminated the need for expensive dedicated form printing hardware, delivering cost savings and vastly improved printing processes.

Applications

Commercial accounting applications specifically designed for managing point of sale and small-medium back office financial and accounting data.

Solution

AXIAR Format intelligently formats output based on data-driven triggers and delivers the specific forms to the appropriate printers. From a single print request, multipart forms are sent to local and remote printers on the network, eliminating the need for bursting and collating output. Forms are printed on blank paper, eliminating the need for pre-printed paper and the need to use dedicated form printing hardware.
The customer selected the LBM solution due to several critical factors:
The robustness and quality of LBM's AXIAR Format software

LBM's cross-platform support for Linux/UNIX and Windows OS's

The quality of LBM's Professional Services during pilot and implementation
AXIAR Format automatically formats and delivers forms to any network laser printer without operator intervention. Purchase orders, invoices, rental agreements, sales receipts, checks and various other business documents all print perfectly formatted using AXIAR Format. New forms and form edits are accomplished on a server, eliminating the need for costly hardware changes.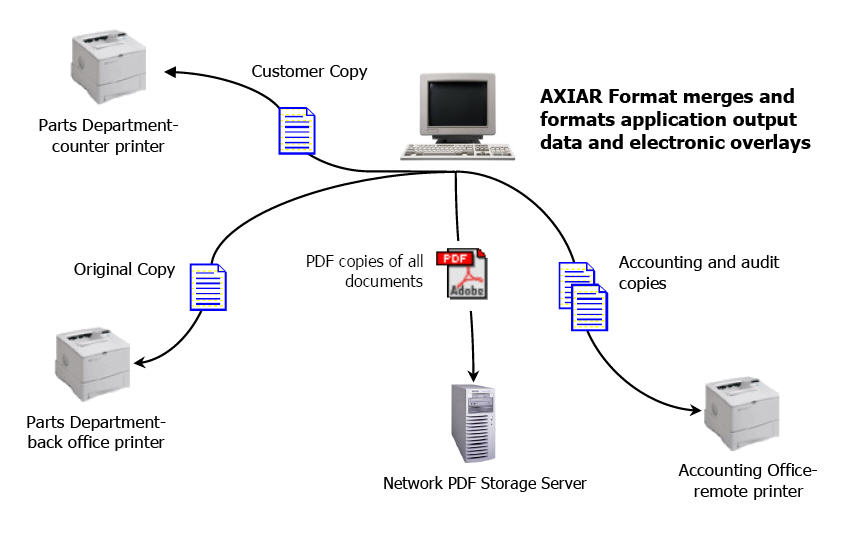 About LBM Systems, LLC
LBM develops and markets software products that manage data created by mission-critical business applications. LBM products format, deliver and retrieve output from financial/accounting, ERP, desktop and other applications vital to day-to-day business operations.